Lew Soloff
and The Afro-Cuban Ensemble
Pedro Martinez, timbales & vocals, Axel Tosca, keyboards & vocals, Alvaro Benavides, electric bass and Jhair Sala, congas.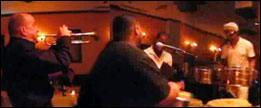 _
Harmonie Ensemble
Conducted by Steven Richman

Lew Soloff featured soloist, current project "Sketches Of Spain"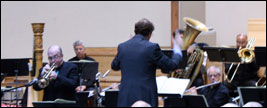 Manhattan Jazz Quintet
(Current line-up)

David Matthews, piano, Lew Soloff, trumpet, Victor Lewis, drums, Andy Snitzer, tenor saxophone, Francois Moutin, upright bass.

Visit ManhattanJazzOrchestra.com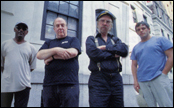 Ray Anderson's Pocket Brass Band
This colorful ensemble includes Ray Anderson, trombone, Lew Soloff, trumpet, Bobby Previte, drums and Matt Perrine, sousaphone.
Visit RayAnderson.org
Manhattan Brass
David Taylor, bass trombone, Lew Soloff, trumpet, Mike Seltzer, trombone, Wayne Dumaine, trumpet and RJ Kelly, French horn.
Visit ManhattanBrass.org